Katie and I wrapped up the second weekend in a row where we attended a wedding. The wedding was fantastic! Luckily, last weekend we were in Somerville for the wedding, and this weekend we were in Boston at The Liberty Hotel. If you don't know, the Liberty is actually built on the site of a former Boston jail that housed famous inmates like Sacco and Venzetti and Malcolm X. Despite its rather sordid past, it's now a really pretty and interesting building, and the wedding was a great time.
The wedding didn't start until 5:30 PM, though, so I had all day yesterday to do stuff. First, I took the car to get inspected. Technically I didn't have to get it inspected until June, but after all the (entirely legal) modifications I've made, I was concerned that a shop might decide to nitpick me on something and cause me a lot of problems. So, I took it early! I was initially going to go to Somerville Gas & Service, which is right next to our house, but the mechanic left an hour early. So, I headed over to Pearl Street Auto, where the very nice mechanics saw me right away, no questions asked, and 30 minutes later I had my sticker. This year was both safety and emissions, so I should be good for the life of the car, since I'm not planning on making any more engine modifications. I didn't even bother to detune it, and still passed! Nice job, Cobb.
Thank you, Commonwealth of Massachusetts
I have a bunch of work planned for the next few weeks, but don't have all the parts yet. Since the front brakes are so big, I had to order some hub centric wheel spacers, and they're still on backorder. In the meantime, though, the beautiful weather provided a perfect opportunity to clean the car! Not the exterior (though it also needs a good car wash), but the interior, since it's been a pretty long winter and it was sorta gross. WeatherTech floor mats only do so much. Salt caked onto the carpet, crumbs and stains all over the upholstery, bad smells... pretty normal after a New England winter, but most just vacuum and call it a day. Not me though!
Every Spring, I deep clean the carpets and seats. When I had the Volvo and the 3 Series, it was just a matter of cleaning the carpet, conditioning the leather, and washing the windows. Now, with an all-cloth interior, I had to clean the carpet, clean the upholstery, recondition the vinyl, and wash the windows. After picking up a couple of cans of Resolve carpet cleaner at Target, I started by vacuuming everything, then coating the interior in the carpet cleaner, and working it in with a microfiber cloth. After waiting an hour or so for it to dry (and spot cleaning a couple areas I missed), I vacuumed again and the carpet looked like new! The seats also look way, way better. Perhaps most importantly, the mildew smell is gone. Take that, wetness.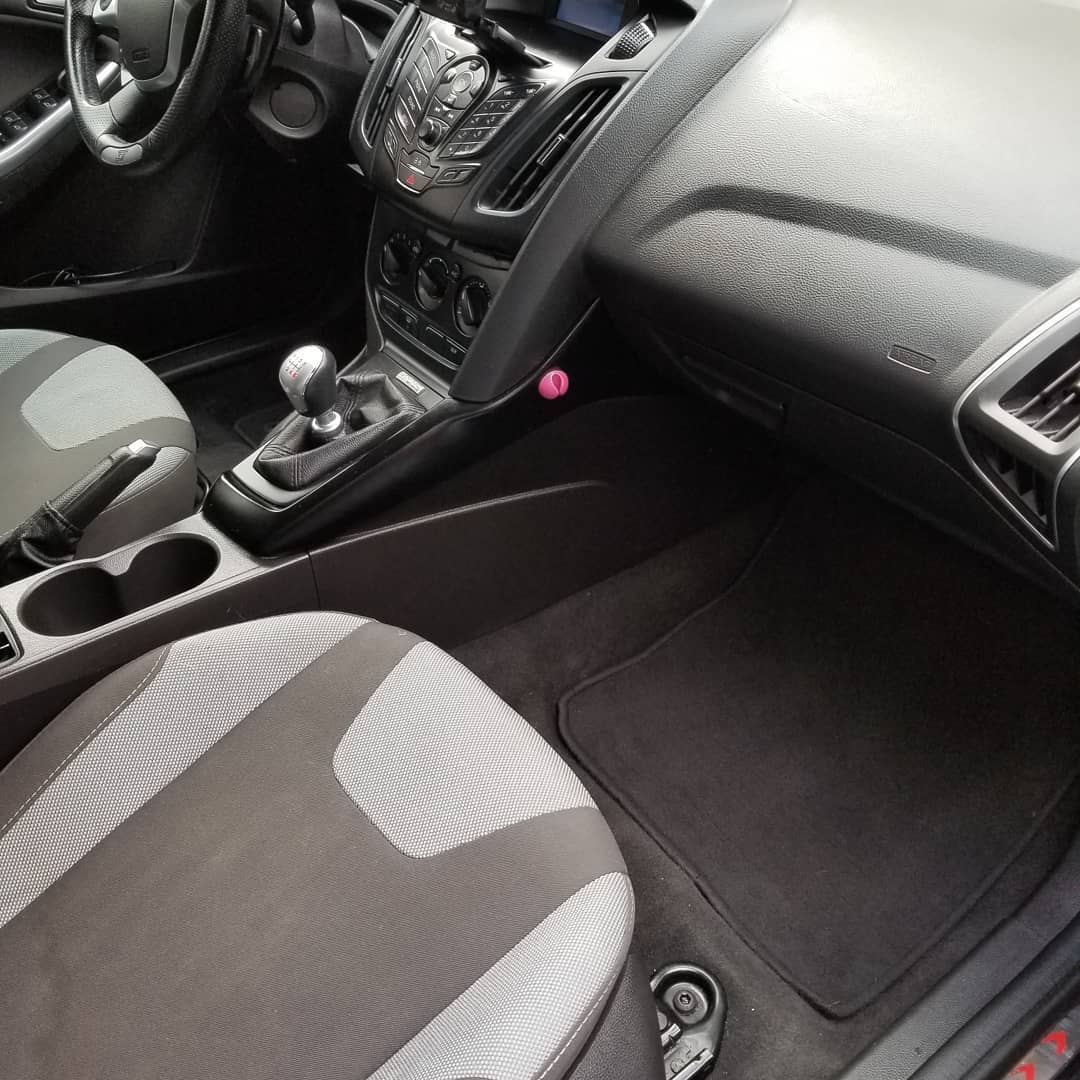 Looks great except for the stain where Katie spilled stuff on the seat, which I cannot for the life of me get out...
Doing all that took about 3 hours or so, and then it was time to get ready for the wedding. We went and had fun at the wedding, and then bailed early because we had to attend the Catsachusetts Cat Club show at Simoni Ice Arena next to our house. It was... tremendously good! Seriously. There were a lot of very nice people there with a lot of very nice cats, and there were all sorts of activities for kids, etc. We also found out that we could, actually, enter Zelda next year in the Household Pets category. Holy cow! We might actually do that! She is the prettiest cat in the world, after all.
Once we finished at the cat show, we headed to brunch at A4 with some friends. It was nice to hang out with some people who used to live in Boston, but now live in far flung corners of the US. After returning home, I decided it was time to recondition the vinyl and clean the windows. The vinyl reconditioner stuff is basically a rattle can full of poison, that you spray on everything, then wipe down with a cloth. It makes the plastic look new and lustrous again. Windows were just a paper towel and Windex. After doing all that, I installed the new dead pedal to help preserve the carpet, and I was done! Came out pretty good, I think.
You can see the edge of the dead pedal in the lower left
Katie and I are pretty dead now, after wedding yesterday and chores today, so we're planning on taking the rest of the afternoon easy. I'm letting the car air out a bit now, so the next time I drive it I don't pass out from fumes. It's such a nice feeling driving a clean car, and it only costs about $30 and a bunch of time to make one feel like new. I highly recommend it.
-Chris